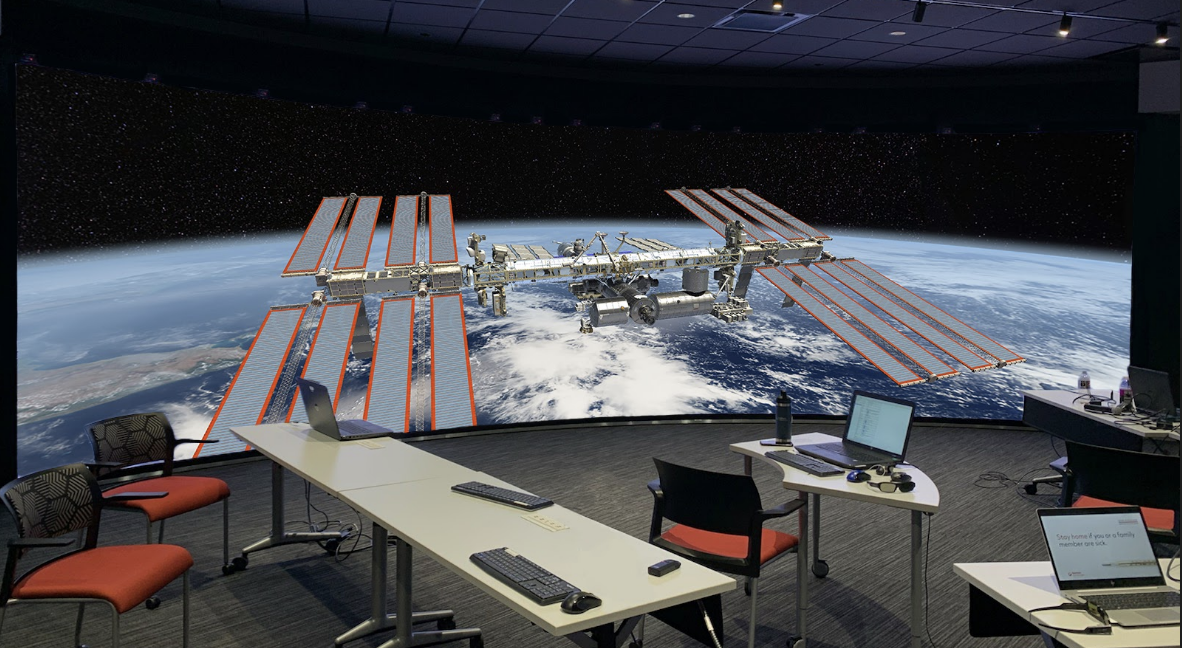 AV/IT Team: Outstanding Visualization
Sometimes, to bring you intriguing stories, even stories of intrigue, we cannot disclose the organization of origin. This is the case of this major government contractor in the aerospace industry. The aerospace company hired an audio-visual and virtual reality solutions integration company Metchdyne provide a state-of-the-art 3D visualization and simulation environment for its engineers to examine highly detailed images.
Large-scale immersive display
The immersive centerpiece of the project is a curve 32 feet by nine feet, Sony Crystal LED 8K direct view display system. The extra-large aspect ratio required special programming to ensure the best display of complex CAD models in native format. The massive screen allows multiple users to collaborate while viewing 3D virtual reality designs, which is a more intuitive and user-friendly solution than head-mounted VR systems used by a group.
Mechdyne integrated and programmed the installation to adapt to various use cases. The windowing system can display stereoscopic 2D and 3D content from multiple sources anywhere on the screen. Programmed with Mechdyne's Meeting Canvas software, the video wall can simultaneously display up to four HD inputs and four 4K UHD inputs. Additionally, the system is VR-enabled through 16 motion-tracking cameras. A user's position and orientation are monitored in real time to alter the imagery to present the correct image perspective as the user moves. The design also includes finger tracking support to monitor the position and orientation of a user's hand in relation to on-screen components.
AV/IT TEAM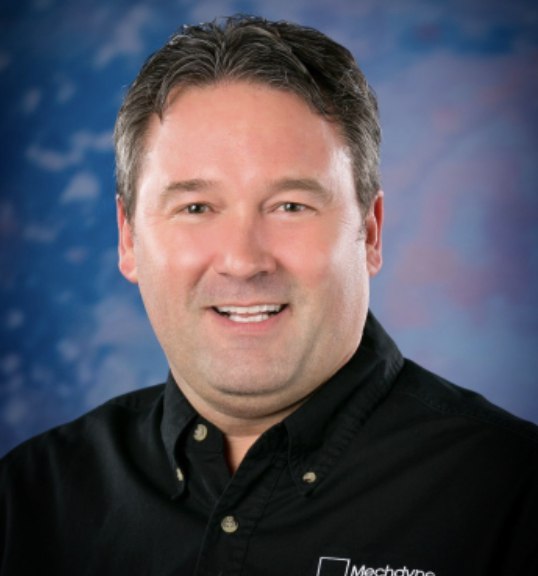 Chad Kickbush, General Manager of Mechdyne's Integrated Systems Business Unit.
Mechdyne's in-house team of control programmers thoroughly reviewed the use cases to ensure the windowing software and user interface met the unique needs of the customer. "Advanced staging at Mechdyne's Tech Center helped verify the integrity and operation of the system prior to installation," said Chad Kickbush, general manager of Mechdyne's Integrated Systems business unit. "The system has been made fully functional, including the integration of the display, windowing software, custom user interface programming, and computing power to make it all work." Several display/windowing presets have also been prepared. Customer performed Factory Acceptance Test (FAT) to approve interface and functionality prior to shipment. The offsite set-up also allowed Mechdyne to perform the onsite integration quickly, accurately, and with minimal disruption to the customer's day-to-day operations.
Technology that pushes the boundaries
Sony and Mechdyne worked closely with the customer to create this one-of-a-kind Crystal LED setup for aerospace 3D simulation. "The compelling visuals provided by Detailed Sony Crystal LED Display have been further enhanced through collaboration with Mechdyne, which implements cutting-edge technology in a way that amplifies its inherent power in supporting key government clients and applications," said Sander Phipps, Account Director National, Visualization and Simulation at Sony Electronics. "Our Crystal LED delivers a breathtaking viewing experience, and when paired with Mechdyne's stunning 3D expertise, brings the canvas to life in a way that inspires and empowers our users."
[ Sony Adds New Mid-Range 3LCD Laser Projectors ]
Modular in nature, Crystal LED technology adapts to virtually any size or aspect ratio. The LED's 1,000,000:1 contrast ratio displays beautiful color depth for extraordinary picture quality. The nearly 180-degree viewing angle ensures all participants have an equally amazing experience. The virtual design industry appreciates the realistic colors, textures and resolution enabled by Crystal LED technology, which relies on fine detail and analysis for precision and accuracy.
Enhancing the impressive and immersive quality of the environment, Mechdyne engineers embedded the screen into the main wall to appear as part of the structure. At the same time, 7.1 surround sound floods the room from discreetly positioned speakers. A custom frame and base bring the panels as close to the ground as possible, creating a portal effect. Auxiliary flat panels are installed at the entrance and in other areas of the facility. Complete setup: a control station from which a meeting leader can create and manage work sessions and dynamic presentations.
[ IoT and SoC are Revolutionizing Digital Signage ]