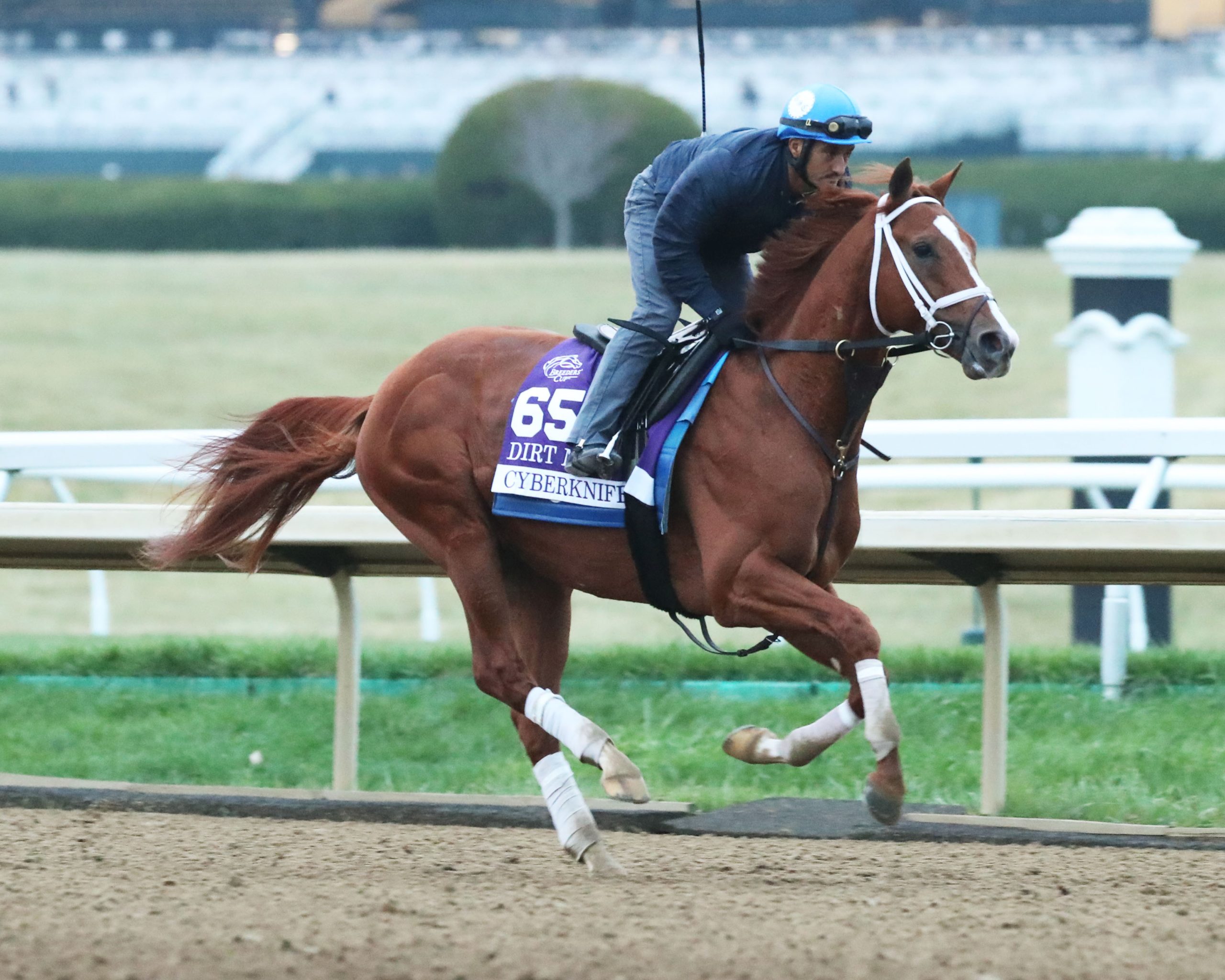 Cox Confident Dirt Mile Right Race for Cyberknife
Off-road cyberknife. Coody Photography
Big Ass Fans Dirt Mile Contenders: Brown's Pipeline, O'Neill's Slow Down Andy, Informative a scratch
Breeders' Cup Notes/Edited
LEXINGTON, Ky.—Gold Square's two-time 1st-year winner Cyberknife came out galloping 1 ½ m at 8:00 a.m. with practice rider Edwin Vargas aboard. The 3-year-old Gun Runner colt is set to enter stud next year at Spendthrift Farm and his connections are hoping a reduction to 1m in the Dirt Mile will help him end his career with a trip into the winner's circle.
"He's been training really well," coach Brad Cox said. "He's been very consistent all year. I think the Mile is the right race to get into the winner's circle. I think as long as he breaks well and gets involved early, but not necessarily in the lead or anything, but as long as he's involved and has a position that's spinning for the house, I think he will be here.
John D. Gunther and Eurowest Bloodstock Services' Pipeline, 8-1 on the morning line, will look to give 15-time Breeders' Cup winner Chad Brown his first Dirt Mile win on Saturday. The two-time winner of nine starts exits a third in the G1 Forego behind Dirt Mile morning line favorite Cody's Wish and Sprint morning line favorite Jackie's Warrior, going 7f. Before that he was second in the Monmouth Cup over 1 1/8 miles. He drew three out of 11 and will be ridden by Flavien Prat for the first time.
"It's a good draw for him on the inside on that mile setup and that could be an advantage," Brown said. "He's training well and it's a big step forward for him, but he's always been a horse we've thought about a lot. I like him in a two-round situation. He is a tall, long-legged, free horse that has speed and can carry it. A mile and an eighth might be too far, but I like the reduction to a mile.
Raised in California by Reddam Racing Slow down Andy went for a routine 1 1/8m gallop on Thursday morning two days before he was scheduled to race in the Big Ass Fans Dirt Mile. Connor Murray was aboard trainer Doug O'Neill's colt.
"I think a lot of it (deciding to go into Slow Down Andy in the Dirt Mile) was just trying to avoid Flightline," O'Neill said. "He's super versatile. He rolls or sprints and he can run on dirt or grass. Whatever you want to throw at him, he'll give it to you.
Slow Down Andy is a double-sided, multi-level stake winning son of Nyquist. His most recent start came in the Awesome Again Stakes in which he stumbled out of the gate but recovered for a third-place finish. The colt has been in the top three for eight of his nine career starts. Saturday's Dirt Mile will be his first race on a flat mile as well as his first race at Keeneland.
"He's a medium sized colt with a heart the size of a Clydesdale. I'm thrilled with his chances in the (Dirt) Mile," O'Neill said.
Rated 30-1 on the morning line, Slow Down Andy will break away from post one with Mario Gutierrez retaining the mount. Gutierrez has ridden the colt on all of his starts.
Trin-Brook Stables' Informative was scratched from the Dirt Mile according to the Breeders' Cup racing office by order of vets.