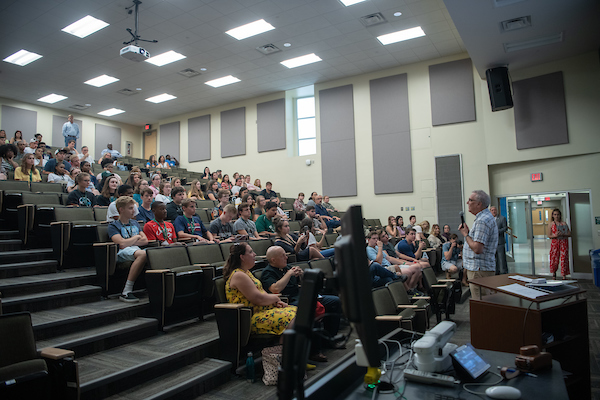 EW Scripps School of Journalism to Host High School Journalism Workshop July 6-9
Former EW Scripps School of Journalism Principal Dr. Robert Stewart addresses attendees of the 2019 High School Journalism Workshop.
One of the oldest high school journalism workshops in the nation will return to the Ohio University campus July 6-9, 2022, marking the first time in three years that the event will be held in person. .
The workshop, now in its 77th year, will welcome high school students from across the region to learn from some of the industry's greats, including professors from the EW Scripps School of Journalism.
The three-day event will allow students to choose from eight topics for their in-depth training: podcasting, graphic design, broadcasting, sports writing, news writing, magazine journalism, strategic communications and photojournalism.
Some of the nation's top professionals will return to campus for the workshop, including Pulitzer Prize winner Howard Hoffman of Blackrock, Inc. and former NBC Associate Producer Ugonna Okpalaoka.
"We can't wait to bring our workshop back to our beautiful Athens campus," said Tim Sharp, co-director of the event. "And we know that high school students in our area are just as eager to attend. A few minutes after registration opened, we saw our first student register.
The workshop costs $300 and includes accommodation, meals and all instruction for the three days. An endowment from the Scripps Howard Foundation will continue to support the diversity scholarships offered on the entry form.
Again this year, the workshop will also offer one hour of university credit to participants who choose this option.
For more information, contact Tim Sharp at [email protected]