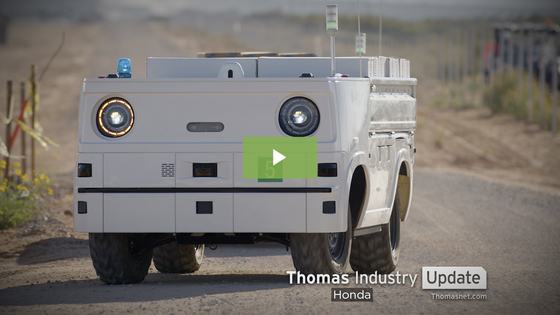 Honda tests second prototype autonomous work vehicle
Welcome to Thomas Insights – every day we post the latest news and analysis to keep our readers up to date with what's happening in the industry. Sign up here to receive the best stories of the day straight to your inbox.
In 2018 Honda started test prototypes of autonomous work vehicles in a variety of situations, including search and rescue, construction, agriculture and snow removal applications.
The first AVW looked like a four-wheel-drive agricultural quad. The main difference was that the top half had been removed and the sensors and autonomous driving equipment were in their place.
The self-contained capabilities of the original allowed for 'follow me', 'model' or 'A to B' modes when moving materials, hauling heavy equipment, spraying crops, and performing soil maintenance.
This month, Honda announcement a successful test drive of the second-generation Honda AWV full-electric prototype in New Mexico.
During its month-long field trial, the AWV towed and transported supplies to pre-defined destinations at a Black & Veatch solar-powered construction site. Its payloads weighed approximately 900 pounds and it also towed a trailer carrying over 1,600 pounds.
When delivering equipment and supplies, the AWV has shown the ability to stop within inches of preset points. It has also proven its ability to support power-hungry sensors and provide propulsion for eight-hour days at high temperatures.
New Atlas reports the new prototype features a "sawn-off mini-truck feel". Its appearance includes a pickup-style bed with sides and a tailgate that can be folded down. Two round headlights are on the front and a flashing blue light on top alerts workers to its location.
The sensors of the new Honda AWV use GPS for localization, stereoscopic cameras for remote monitoring, as well as radar and lidar to detect obstacles. It can also be controlled via a remote control.
Honda has yet to announce any marketing plans.
Image Credit: Honda
Steel and metals supply trends on the rise amid tariff talks
Next story »
More Engineering and Design