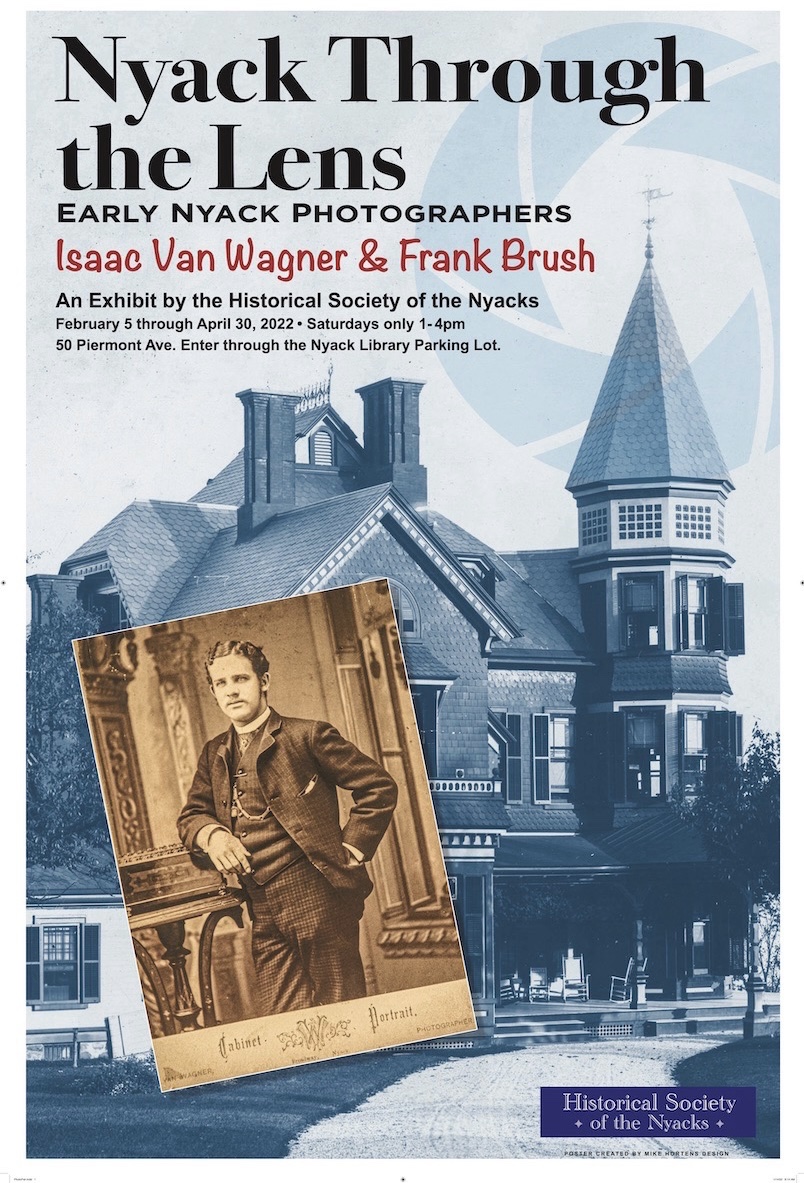 Nyack People & Places: Nyack Through the Lens––A Golden Age Photography Exhibition
When people hear the term "Gilded Age," they may think of Julian Fellowes' new TV series or of a time long gone where people were faraway and wealthy Americans in big houses wearing elaborate clothing. A new exhibition of Nyack Historical Society, Nyack through the lensbrings the golden age of the house closer by showcasing the work of two Nyack photographers who closely document people and places from 1870 to 1910.
The fact that these photographs have survived is in itself an important story. It is only through the efforts of the Perry family and the Nyack Library that we can see today how the villagers lived four generations ago.
Golden age
The period from 1870 to 1900 was a time of great prosperity in America and a time of great income inequality like today. Industrial tycoons, inventors, real estate developers and dozens of others have accumulated untold new wealth. It was the time of Carnegie, Rockefeller, Guggenheim, Frick, Gould and so many others. Huge urban mansions, riverside and oceanside summer residences, extravagant dining, exotic vacations, and recreational sports became de rigueur among the wealthy. At the same time, waves of immigration and the suppression of African Americans produced an extremely poor working class that struggled to get by working in low-paying jobs under poor conditions. The middle class flourished as new homes, roads, railroads, and technology fostered a demand for professionals and services.
Nyack, Jewel of the Hudson
Nyack on the Hudson, as we were then called, also prospered. Before the civil war, Nyack was a sleepy farming community. By the end of the century, the churches, homes, and commercial buildings, many of which are still standing, were all in place. What was unique about Nyack in the Golden Age was that the area was a go-to summer spot for wealthy people who wanted to escape the heat and sickness of summers in the city. Nyack became more accessible with the opening of the Northern Railway in 1870, the ferry from Nyack to Westchester, and numerous steamboats plying the Hudson River.
Several large hotels, the St. George Hotel, Prospect House, Tappan Zee House and Pavilion have been built in Nyack, taking advantage of the local natural landscape to provide recreation for guests – walking, boating, hiking, rowing, swimming, tennis , golf, bowling, horse riding and panoramic views. Nyack Opera has organized sophisticated cultural events. The Nyack Philharmonic Society, local drama groups and touring artists regularly appeared.
With so many seasonal visitors, businesses in Nyack flourished. Bakers, grocers, laundries, delivery services and more were busy. Hotels were staffed with chefs, waiters, maids and gardeners. To top it all off, much of Nyack's farmland has been bought up to build elaborate summer houses, especially along the river. As described in publicity at the time, Nyack was truly the "Jewel of the Hudson".
The photographers
Isaac Van Wagner (1843-1916) was already a trained photographer at the age of 17. At 18, he enlisted in the civil war in the service of the Zouaves, regiments that wore Turkish-style uniforms. He moved to Nyack around 1870. He opened Nyack's first photography studio where hundreds of villagers sat for their portraits enhanced by studio props and backdrops. "Van" was a popular presence in the village, living in a house he had built on the southeast corner of S. Broadway and Cedar Hill Ave. The house still exists. The idea for the three-story brick buildings facing down Broadway appears to have come from Van Wagner. The first of the buildings became the site of his last Nyack studio in the 1880s at the southwest corner of S. Broadway and Hudson Ave.
Frank brush (1857-1916) grew up in his family home at 18 Van Houten St. in Upper Nyack and lived there all his life. He married Gertrude Ackerman from a well-known local family. We don't know why he took the photographs he did. Presumably like many enthusiasts, he took photos of family, friends and places that interested him. At one time he ran a greenhouse where violets were grown for export. For this reason he may have become acquainted with Arthur C. Tucker who also grew flowers and who built a fabulous Victorian confection of a house known as Undercliff in Upper Nyack. Perhaps because of this link, we have Brush's detailed views of the Tucker House which was removed in the 1920s.
How the exhibition was born
The Nyack Historical Society typically hosts three exhibits a year at its museum at 50 Piermont Ave., itself a historic 1850s Italianate building built by Peter DePew. Historians have long discussed the need to bring together the photographic archives of our early days and the works of Isaac Van Wagner and Frank Brush provided a detailed and wide range of topics to choose from.
The works of both could easily have been lost to time. After Frank Brush's death, his wife kept the glass negatives and prints, and before his death in 1943 she gave them to a neighbor, Winston Perry Sr. They sat in a closet in the garage for 30 years. . When his son, Win Perry Jr. became interested in the story, his father passed it on. According to Win Perry, his "father was a great collector of objects linked to local history: photographs, documents, furniture, fabrics, tools and utensils. I added very little to the treasures he saved. Its collections have been the backbone of a number of Historical Society exhibits.
Stereoscopes became obsolete technology, and many slides taken by photographers like Van Wagner disappeared with viewers. Early sepia-toned cabinet portraits were for storage boxes and family albums. We are fortunate to have examples of Van Wagner stereoscopic slides from the Win Perry, Jr. Collection and photos of the Merritt-Crawford family cabinet archived as a unit by the Nyack Library History Room .
Since the quality of some of the originals has deteriorated over time, company trustee Lee Hoffman undertook a digital restoration of the exhibit photographs to improve the clarity and detail of each photograph.
Thanks to the efforts of two photographers who never managed to take a selfie for posterity, and the efforts of dedicated historians, Nyack through the lens was curated to be viewed at the Society Museum from February to April 2022. The exhibit offers a panoramic view of Nyack in the Golden Age, including three-dimensional landscapes viewable through a stereoscope. From estates to farms, hotels to churches, from the Hudson River to Rockland Lake, you won't want to miss this portrait of Nyack, the jewel of the Hudson.
See also
Nyack People & Places: like no one smiled in old photographs
Bulletin of the Nyack Historical Society, A record of life about to change forever
Nyack People & Places: Win and Betty Perry-A Partnership for Life
Michael Hays is a 30 year old resident of the Nyacks. Hays grew up the son of a professor and a nurse in Champaign, Illinois. He recently retired after a long career in educational publishing at Prentice-Hall and McGraw-Hill. Hays is an avid cyclist, amateur historian and photographer, gardener and dog walker. He has spent more years than he cares to count with his beautiful girlfriend, Bernie Richey. Hays is currently president of the Nyack Historical Society. You can follow him on Instagram like SuperiorNyackMike.