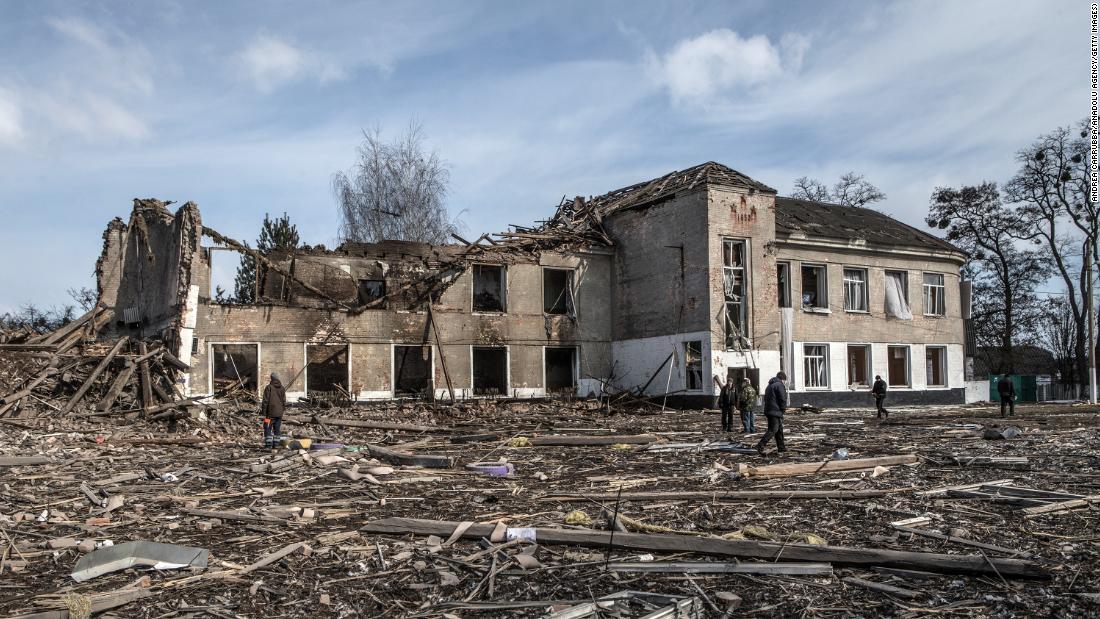 Photographers document the destruction of Ukraine and ask, "How could this happen in 2022?"
Nicholas Kristof said something prophetic on Sunday's 'Reliable Sources' TV show: "I'm not sure people fully appreciate it – it's the photographers, TV reporters and videographers who take the most risk" in war zones. "Those of us with a notebook can hang back a bit," he said, but the photographers are "showing raw courage."
This week has been filled with examples.
Heidi Levine, a 30-year veteran of war zones like Iraq and Syria, told CNN's John King on Thursday that her fellow photographers in Ukraine were in shock that "what we're seeing is actually happening. I mean, how could that happen in 2022?" It's like "we learned absolutely nothing from history," she said.
Levine was on assignment for the Washington Post in Kyiv. Here are some of his recent photos. She told King that she woke up with nightmares. "I think I just can't imagine being on the other side of my camera," she said.
"I even saw a cemetery where the graves were destroyed by bombardment," she added. "So even the dead are not allowed to rest in peace here."
Other photojournalists also share the stories behind their photos:
>> Maxim Dondyuk, who is Ukrainian, documents the war as "his mother was forced to flee" and "his father lives in a town under Russian military occupation," TIME's Simon Shuster wrote. Dondyuk told Shuster that "I don't stay here and do this because I'm a masochist. I do it because sometimes a photo can change people, change societies." See some of Dondyuk's work here.
>> Marcus Yam of the Los Angeles Times keeps a photo diary showing the "methodical destruction of a country". Some images disturb.
>> Yam, speaking to KCRW, said the world must see "the horrors of this violent chaos. I feel like if we saw this we would understand and not be so quick to go to war. "
>> Lynsey Addario, who photographed a deceased mother and her two children in Irpin last week, 'met the surviving father of the slain family for a tearful conversation,' People magazine reports. Addario said: "I had to say, 'I'm so sorry I was the one who took this picture and I hope you understand why. There was no question of [them] – it had to be documented."
Show the truth to Mariupol
The siege of Mariupol in southern Ukraine has been one of the defining stories of the war to date. The city was blockaded by Russian forces. Two Associated Press journalists, Evgeniy Maloletka and Mstyslav Chernov, have been the eyes and ears of the world. According to the AP, they are "the only international media present in Mariupol".
"Their photographs are not just a record of utter destruction, but a direct refutation of Kremlin propaganda," Vanity Fair's Charlotte Klein wrote on Thursday.
Maloletka's haunting photos of a bombed-out maternity ward have gone viral. Chernov's report that a mother and child later died was a further shock. The couple's description of a mass grave for children was unforgettable. "Other bodies will come," they wrote, "from the streets where they are everywhere and from the basement of the hospital where adults and children lie waiting for someone to pick them up. The youngest still has an attached umbilical stump."
Maloletka and Chernov are Ukrainians. AP Editor-in-Chief Julie Pace told me, "We are incredibly proud of our team in Mariupol and their commitment to making sure the world knows what's going on in their home country. Not only did they produce some of the most striking and powerful images of the war, they report crucial facts about the situation on the ground, such as proving that the Mariupol maternity ward had not been emptied of patients like Russia said so. They also carried out this work in extremely difficult and dangerous conditions, but they believe that this is a story that needs to be told."
>> CNN Digital's new special report, "Anatomy of the Mariupol Hospital Attack," is based in part on Maloletka's photos…
"A photographer recounts a terrifying escape"
CNN published a harrowing, first-person article on Thursday by Sergey Makarov, 34, a photographer from Mariupol who recounted surviving the Russian siege and eventual evacuation from the city. Look at his black and white photos and read his words here…
This is the mission
Craig Renaud opened up about the death of his brother Brent Renaud in Ukraine for this new TIME magazine memento. (Brent was in Ukraine working on a documentary series involving TIME Studios.) "What gives me the biggest heart…is how specifically and sincerely the people honoring Brent recognize the mission that drove him," said said Craig. "A person who had dedicated his life to telling the stories of forgotten people was slaughtered trying to reach them."
>> Note: Craig spoke to TIME in Warsaw, Poland, "the first leg of the journey to retrieve my brother's body…"
>> Brent's producing partner, Juan Arredondo, is still recovering. "He's had a few surgeries," a friend said Tuesday…
A unique perspective on the Fox crew
Fox's Greg Palkot wrote a nice tribute to his slain colleague Pierre Zakrzewski on FoxNews.com on Thursday. "He was one of the best combat cameramen – all-around cameramen, by the way – in the business," Palkot wrote.
Zakrzewski and Oleksandra Kuvshynova were killed in Ukraine on Monday and correspondent Benjamin Hall was seriously injured. Hall is now recovering from the country. Kimberly Dozier is one of the only people in the world who can understand what Hall is going through. When Dozier was reporting for CBS in Baghdad in 2006, she survived a bomb blast that killed two people. Dozier and I started talking Tuesday morning, when we were still hoping against hope that Hall's crew was alive, and I learned a lot from his experience. Today I asked him to record a podcast episode on the road to recovery for wounded war correspondents. She reflected on her own journey and described how journalists are stepping up to help Hall at this time. She also warned against letting "image fatigue" set in, arguing that "getting tired of war helps Putin". Connect via Apple Podcasts, Spotify, Stitcher or your favorite app…