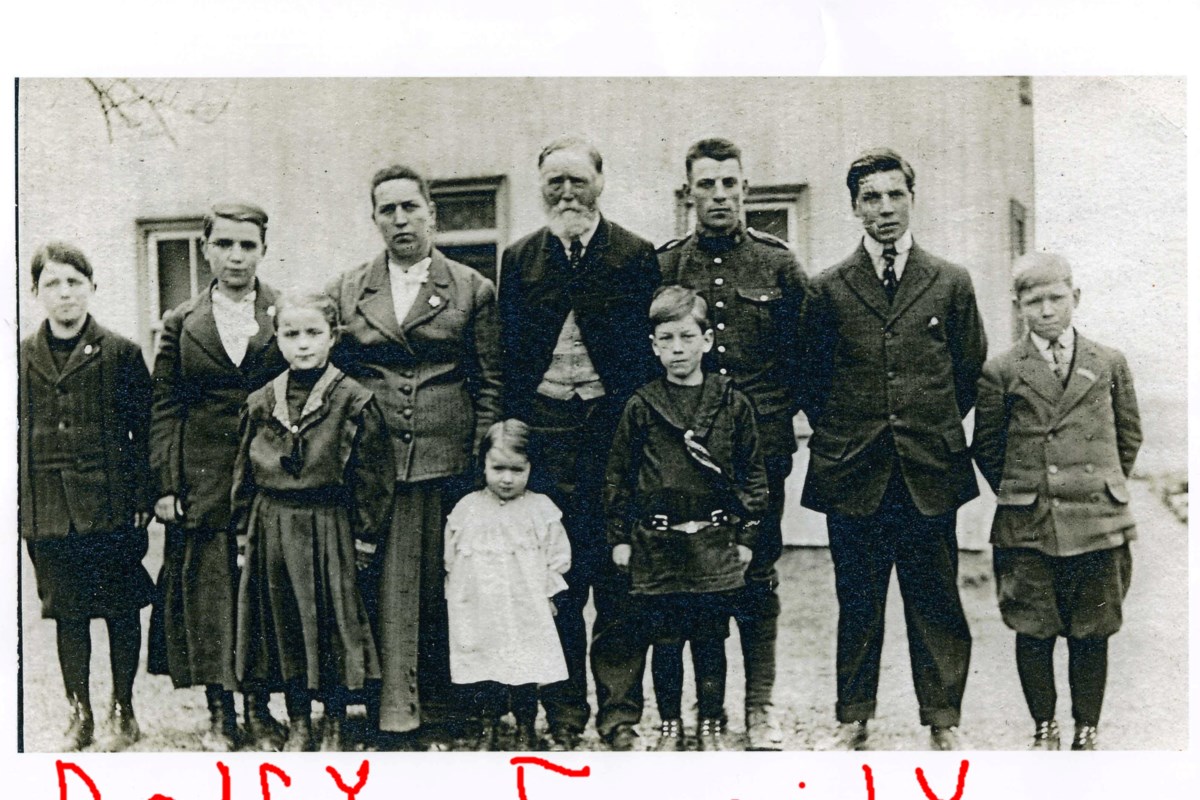 POSTCARD MEMORIES: Remembering Miss Edith Belfry
When we moved to Bradford in 1965 I started mowing lawns. One of my clients was Miss Edith Belfry. She was christened Elsina Edith Marie Belfry, born October 28, 1912. Edith was the daughter of William James Belfry and Julia Elizabeth Cole. She was the youngest of eight siblings.
BROTHERS AND SISTERS:
George Wellington Belfry born January 22, 1994 and died during the First World War in France on November 9, 1916

Elsie Florence Belfry (Irving) born October 14, 1897 and died August 2, 1984

Morley Melbourne Chancy Belfry born August 2, 1900 and died October 8, 1976.

Emory Dawson Belfry born July 24, 1903 and died January 14, 2000.

John Alexander McKenzie Belfry was born March 24, 1905 and died March 24, 1971.

Samuel Elgin Belfry born February 8, 1097 died September 17, 1984

Annie Elizabeth Belfry (Mills) was born August 21, 1908 and died November 4, 1960.
Their family home was on Highway 11 on the east side of the road halfway between the 8th Line and Concession 9.
It burned down a few years ago.
Edith attended Bradford United Church.
Edith was a dedicated teacher and taught at SS#9 Mount Pleasant School in Bradford West Gwillimbury.
She taught there from 1934 to 1940.
She taught at Poplar Banks School from 1941 until it closed in 1965. It was on the southwest corner of Green Lane and Young Street on the way to Newmarket.
She was too young to retire and was not entitled to a pension, but she approached another influential man in Bradford and he got her a pension which would help her survive. Thanks to D. Arthur Evans.
When I met Edith, she lived on the southeast corner of Frederick Street and Moore Street. She lived with her sister Anne and when she died Edith took over the house.
Annie's adopted daughter, Twilla, lived with them. Twilla lived a sheltered life but got married and was very happy as a married woman.
Edith loved to laugh and always had a big smile.
Edith knew I was interested in history so she gave me some tips. One was a very large book published in 1896 (the same year my house in Prince Edward Island was built) called The Home Knowledge Atlas. Inside was her name and probably the year she acquired it. It was used a lot as a hard cover and some pages were dog-eared. It tells about the population of large and small communities around the world. Even my village of Vernon Bridge had a post office at the time and Bradford, Ontario had a population of 1300 people. I'm sure she used it as a teaching tool during geography class.
There was a large picture of the King and Queen donated by the Hon. Earl Rowe; a comprehensive annual 1940 Veterans Calendar commemorating the recent visit of King George and Queen Elizabeth to Canada.
A Pictorial Review magazine cover for 1935. "Note recipient's name and address on sticker"
Also a 1931 magazine (note the receiver's name on the sticker).
Also very nice Valentine's Day cards, one from Keith and Karl (Bowles); one from Donald Cooper and a very stylish card from John and Jean (if anyone knows the last name let me know).
She also gave me a stereoscope with lots of maps to go with it. People who come to me are very interested in the concept of the stereoscope using 3D maps.
Since the acquisition of the atlad, it has been used quite often. When I have BnB guests, they want to search their town or city and see what the population was like then.
I would like to thank Ross Belfry for some of the family photos and his help with Edith's family dates.
Don and Diane (Bell) Milos also provided photos and information.
When I return to Bradford I usually take some time to wander the streets remembering who lived here or there.