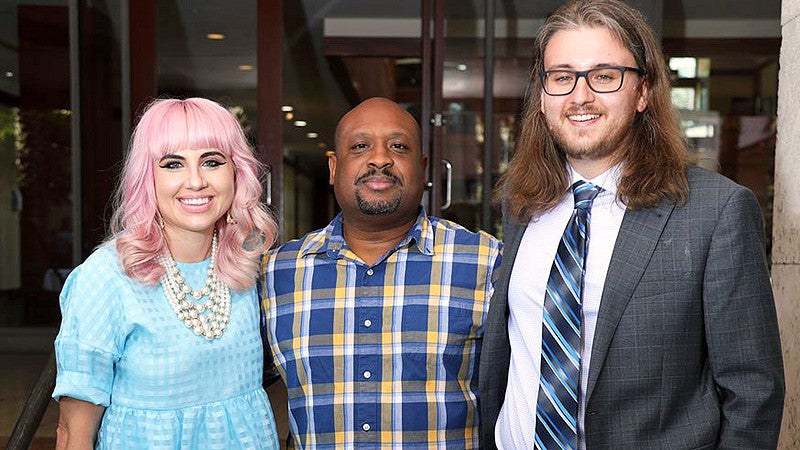 Profile of an alumnus: Rebecca Woolington '09 wins SOJC's 15th Pulitzer for her talk on toxic business practices
After eighteen months of long hours connecting the dots and gathering tons of information, OU School of Journalism and Communication (SOJC) alum Rebecca Woolington and her colleagues at the Tampa Bay Times have published "Poisoned," an expose that won the 2022 Pulitzer Prize in Investigative Reporting.
Woolington is the 15th SOJC Duck to receive a Pulitzer. The series chronicles the toxic practices of a Florida lead smelter that extracts lead from used car batteries and recycles it into metal blocks.
"Winning the Pulitzer is an incredible honor," said Woolington. "I will say it hasn't completely sunk. I don't know if it will ever happen. It was so humbling and amazing to see our work recognized at this level. We're very proud of the impact our story has had in the community and for workers, but it's really cool to see the journalism committee also recognize our work.
But that might never have happened for Woolington, a 2009 graduate of the School of Journalism and Communication's advertising program, who was planning to go to law school before an investigative journalism course came along. change of opinion.
"I took an investigative reporting course in Portland, and it was amazing," she said. "That class and working at the Daily Emerald really confirmed that journalism was what I wanted to do."
After graduating, Woolington served as an investigative and criminal justice reporter at The Oregonian before joining the Tampa Bay Times in 2018. There she worked alongside Corey G. Johnson and Eli Murray to review reports of lead in drinking water in Tampa schools. . A health department source said the county has the highest lead poisoning rate in the state. The reporters' investigation led directly to Gopher Resource, Florida's only battery recycling plant.
"We extracted all public records," Woolington said. "We requested OSHA inspections. We looked at the workers' compensation cases and that's how we actually found the names of the workers. And then we went knocking on their door and asked them what was going on at the factory. One source brought another to another, and that's how it all began.
After reviewing medical records, analyzing workers' blood levels, and conducting more than 80 interviews with current and former employees, the team found that for more than a decade the plant had exposed its workers to levels of lead in the air that were hundreds of times higher than the federal limit.
"We found that a number of workers showed signs of kidney damage," Woolington said. "Some of them had suffered heart attacks and strokes. We counted 14 in the story, and found more later. An employee who had worked at the factory for 32 years developed kidney and heart disease and died at age 56.
Although federal rules require Gopher to provide workers with regular medical exams, the company-contracted doctor did not inform the workers that the level of lead in their blood put them at risk and then allowed them to work. , depending on the articles.
Another finding was that the facility's inadequate ventilation was poisoning workers and community residents who lived nearby. Toxic dust from the factory also came home with workers, exposing at least 16 workers' children to lead poisoning.
But due to the Tampa Bay Times team's investigative work, Gopher Resource was forced to implement safety measures to protect nearby workers and residents as well as provide new medical attention to employees.
Since the release of "Poisoned" in 2021, Woolington, who has since taken on a new role with the publication as an investigative editor, is a firm believer in the value of local reporting.
"The reporters who cover town hall meetings, the people who write about criminal justice, who cover the police, who cover protests, who cover daily happenings in the community and who tell people what is happening where they live – all of this is vital to democracy," she said. "It's a stimulating career. It's painful and wonderful because it's so difficult, but holding people accountable is something we have to do.
—By Sharleen Nelson, University Communications