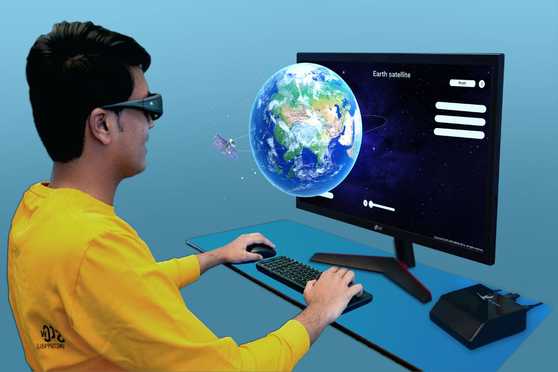 Saras-3D Launches First Stereoscopic 3D Learning Solution in India
Summary
Genius 3D Learning technology is based on the NCERT program
It is specially designed for students of classes X to XII of the CBSE and ICSE boards
3D simulations can now make learning fun and easier for students to learn.
Saras-3D has developed the first stereoscopic 3D learning solution in India, called Genius 3D Learning. It is designed to accommodate students from classes X, XI and XII of the CBSE and ICSE boards. The learning is in phase with the NCERT program.
Genius 3D Learning uses interactive visualization to give students a head start in achieving their academic goals. The mechanism involves 3D simulations, 3D videos and lectures by subject matter experts, top educators and alumni from the world's best institutions.
Interactive visualization makes concepts and theories easily understandable. The sessions come with more elements such as quizzes and activity tracking reports.
The technology comes in a package that includes the Genius 3D learning app, Genius 3D Booster Box, 3D glasses, and a monitor connectable to any existing Windows-supporting computer or laptop. It can be used by pupils as well as by schools.
Genius 3D Learning will be sold and serviced in India by 3D EdTech Pvt Ltd, a subsidiary of Saras-3D.
"Genius 3D Learning is the result of years of research and development. It aims to make today's students the STEM innovators and problem solvers of tomorrow, empowering them to compete and succeed globally. It democratizes high quality education, making it accessible to all, and is designed to empower today's curious and ambitious minds, "said Bipin Dama, Founder and CEO of Saras-3D, Inc.
The makers of this technology promise to make learning twice as fast and more persistent for better scores. It offers a virtual lab experience that gives students a real experience.
Kashyap Mankad, Founding Member and CTO of 3D EdTech, said interactive visualization is designed in a way that allows students to interact, rotate and move objects in all directions in three-dimensional space, helping them to understand concepts and better retain knowledge. "The subject matter experts at Saras-3D guided the creation of these virtual lab simulations that were previously impossible. For example, we have a heart that beats with ECG, atomic models, simulations of a launched projectile and much more. In short, we offer a virtual lab experience with endless permutations for a better understanding of concepts, "said Mankad.
Last updated on November 19, 2021