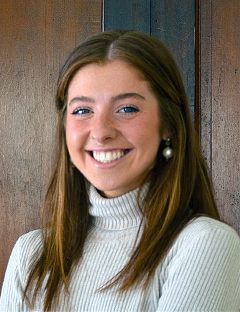 SBU Senior Hannah Roesch of Syracuse Receives Carnegie-Knight Fellowship News21
February 06, 2022
For the seventh consecutive year, a student from Saint-Bonaventure University has been selected for a prestigious Carnegie-Knight News21 scholarship.
Senior Hannah Roesch, a journalism major at the university's Jandoli School of Communication, will join other top journalism students from across the country this summer to report and produce in-depth multimedia projects for major media outlets.
"Hannah Roesch represents the best of the Jandoli School and I am confident that she will make important contributions to the News21 project," said Aaron Chimbel, Dean of the Jandoli School. "She is a dynamic young journalist with a passion and drive to make the world a better place through thoughtful journalism."
Roesch is excited to participate in the Summer Reporting Initiative, headquartered at Arizona State University's Walter Cronkite School of Journalism and Mass Communication. Having dipped her toes in a variety of reporting mediums, she is eager to expand her skills in research and investigative journalism and looks forward to connecting with students and mentors from different backgrounds.
The theme of this year's project is policing and criminal justice.
Roesch has reported for Tapinto Greater Olean and The Bona Venture newspaper, contributed to PolitiFactNY, and interned as a radio personality on campus radio station WSBU-88.3 FM. She has gained a lot of experience in feature and advocacy reporting, and looks forward to the deep dive into a story for News21.
Roesch was selected as Mary A. Hamilton Woman of Promise 2022, an award chosen by the faculty of the Jandoli School. She is a member of the Kappa Tau Alpha National Journalism Honors Society and has helped other students as an additional instructor for introductory statistics.
This semester, News21 students participate in a Spring Seminar, followed by the 10-week Summer Fellowship which begins May 31.
Roesch gushes when talking about the academic opportunities, advice, and mentors she received at St. Bonaventure. She changed her major to journalism her second year.
"Three years ago I walked into the Murphy Building knowing nothing, now I'm walking out on a scholarship from a well-known national media outlet," she said.
"For me, the Jandoli School is also a family, (where) the teachers and staff provide so much support and guidance to the students," Roesch said. "There's this uplifting sense of community."
Roesch, of Syracuse, graduated from Bishop Ludden Junior-Senior High School.
______________
About the University: The nation's first Franciscan university, Université Saint-Bonaventure is a community committed to transforming the lives of our students inside and outside the classroom, inspiring them with a lifelong commitment to service and citizenship. St. Bonaventure was named the 5th regional college value in the North in the 2022 edition of US News and World Report's College Rankings.