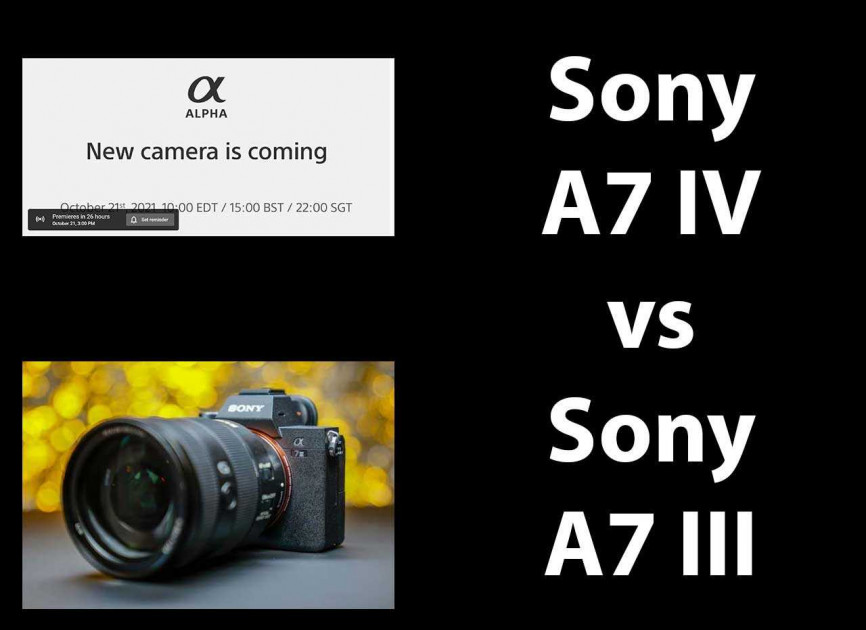 Sony A7 IV vs A7 III – Head to Head Comparison
Sony's A7 line has long been their most popular camera series, striking a balance between specs and price, and on October 21 at 3 p.m. GMT the all-new Sony A7 IV will be unveiled.
The previous Alpha A7 III was one of the best-selling full-frame mirrorless cameras of all time, but almost 4 years after its launch, it's grown a bit long in the tooth.
Thanks to Sony itself, all the key specs of the new Mark IV version have already been revealed, so we can compare the two models to show you what has changed.
With the public price of the 4-year-old A7 III being significantly lower than that of the A7 IV at launch, why would you choose to buy the new kid on the block? We've brought you this in-depth comparison between Sony A7 IV vs A7 III to help you choose between the two.
You can also read our in-depth Sony A7 III review to find out exactly what we think about it.
Sensor
The A7 III features a 24.2 megapixel back-illuminated Exmor R (BSI) sensor that delivers excellent picture quality and 4K video.
24 megapixels have become the sweet spot for the newer entry-level and mid-range mirrorless cameras, with a much higher megapixel count reserved for high-end flagship models.
Backside Illuminated (BSI) is a special manufacturing process that should result in better image quality in low light situations than cameras with a non-BSI sensor with the same number of megapixels.
The A7 IV is upping the stakes by using a new 33-megapixel sensor, which is likely to become the sensor of choice for all entry-level and mid-range Sony full-frame cameras in the future.
Processor
The new A7 IV uses a BIONZ XR processor, as previously found in the A7S III camera, which offers over 15 stops of dynamic range.
This processor also offers 8 times more processing power than the BIONZ X processor found in the A7 III, itself no slouch.
ISO speed
There is nothing to choose between the two models here, with the A7 III and A7 IV offering ISO ranges up to ISO 204,800.
The A7 III has a native range of 100-51,200 which can be pushed twice as far up to ISO 204,800, and can drop down to ISO 50 if needed.
Video
The A7 IV offers 4K UHD video recording in XAVC SI format, up to 60 fps at 4: 2: 2 10-bit color depth to the inserted memory card or via HDMI to compatible third-party recorders.
4K / 30p video is upsampled from 7K, but unfortunately 4K / 60p is upsampled from 4.8K in APS-C Super 35 mode.
So when shooting in 4K at 30p, the camera uses the full width of the image sensor to oversample from the 7K data, but at 60p, a 1.5x crop is applied.
It supports S-Cinetone, HLG, S-Log3 and S-Log2 profiles.
There is no 4K 60p or 10-bit recording on the older A7 III.
They can both record in Full 1080 HD at up to 120 fps, with the dedicated slow and fast motion mode offering frame rates ranging from 1 fps to 120 fps.
The A7 IV also has a few features inherited from the A7S III that set it apart from the A7 III.
These include the A7S III's AF speed settings, no recording time limit, a blue tip color, the ability to shoot vertical video, support for live streaming, and dual recording. NTSC and PAL on the same memory card without having to reformat it.
Additionally, the one-touch video button has been moved from its rather awkward position on the rear of the A7 III to the top panel of the A7 IV.
The Sony A7 IV also supports digital audio interface (via MiShoe) to allow use of the ECM-B1M digital shotgun microphone.
Autofocus
The Sony A7 IV's autofocus system supports real-time eye autofocus for photos and movies, as well as animal eye autofocus (stills only).
The Sony A7 III did not have these features when it was first launched, but Sony added them through the firmware update to version 3.0 in late 2020.
The new A7 IV has exactly the same autofocus system as the A7S III, with 759 on-sensor phase detection points, supported by 425 contrast detection points.
It also has the recent focus algorithm which is the same one used by the recently released A7S III, which is supposed to make the already excellent AF tracking system even more reliable.
That's slightly better than the A7 III, which has 693 phase detection points that cover 93% of the frame, plus 425 contrast detection points, with the system operating down to -4EV in low light.
Burst shooting
Once again, the two models are equal in terms of continuous shooting speeds. They both offer 10 fps continuous shooting with full AF / AE tracking.
There are, however, a few key differences between them.
First of all, the A7 IV has a much larger buffer memory than the A7 III, especially when shooting Raw files, being able to shoot at 10 frames per second for up to 830 JPG + RAW frames. in a single burst at high speed.
Second, the fastest rate on the A7 IV is available with either the mechanical shutter or a completely silent electronic shutter – the A7 III cannot film silently at 10 fps – which could be the difference between capturing that moment. frank or distract your subject and miss the shot.
Body
The A7 IV does not follow in the footsteps of its older brother – instead, it has the same body design and radiator system as the A7S III.
For such a feature-rich camera, the Sony A7S III remains incredibly compact. It has a magnesium alloy body which weighs only around 700g with the battery and memory card installed.
Thanks to a generous handle, the Alpha 7S III will be very comfortable to hold.
The body has an improved tightness, which allows it to be relied on in adverse conditions. It also has a new "heat dissipation" design.
This promises no fans, no overheating and unlimited video recording times in any resolution.
On top, there is a shooting mode dial with S&Q option, a one-touch video recording button, two exposure dials, and an exposure compensation dial, although there is have no upper LCD screen.
It is now possible to connect an external monitor directly to the A7 IV via the new full size HDMI port.
Image stabilization
The A7 IV has built-in image stabilization with a value of up to 5.5 shutter speed stops, like the A7S III.
It also benefits from a new feature called Active Mode which increases stabilization for shooting movies, again inherited directly from the A7SIII.
The older A7 III also has a 5-axis in-body image stabilization system, but that's only worth up to 5 stops.
Viewfinder
The A7 IV features a higher resolution 3.69m electronic viewfinder with a refresh rate of up to 120 frames per second, the same as that used on the A7R III and A9 II models.
This includes 100% scene coverage, 0.78x magnification, and a high frame rate option of 120 fps to help track moving subjects more smoothly with virtually no lag.
That's better than the 2.36 million dot XGA OLED electronic viewfinder used by the older A7 III, which has the same magnification but has a lower resolution and only goes up to 60 frames per second.
LCD screen
The A7 IV features a fully articulated 3-inch, 1.44 million-dot LCD display with enhanced touchscreen features including focus and user interface navigation.
The screen of the A7 IV has a variable angle design which was inherited directly from the A7S III, which for some users will be a big improvement over the more limited 180 degree flip design of the A7 III. .
You can flip the screen onto its side, rotate it forward for easier use when you point the camera towards you, and fold it flat against the back of the camera to prevent it from falling. get scratched.
It's just a much more versatile display for vlogging, filming, and photography in general.
Memory cards
The Sony A7 III was clearly ahead of its time as one of the first mirrorless cameras to feature dual card slots, although only one took advantage of the faster UHS-II standard.
The new A7 IV also has two card slots, but they can now use UHS-II SD cards and Type A CF Express cards interchangeably, just like the A7S III.
Battery life
The Sony A7 IV uses the exact same large capacity NP-FZ100 battery as the A7 III, A7C and A6600 models.
It offers a battery life of 610 CIPA shots when using the LCD display, which is shorter than the 710 shots life of the A7 III (for the LCD display).
Both cameras can also be powered and charged via a USB-C connection, which is useful if you're on the go and have a compatible external battery to plug in the camera.
Live broadcast
The Sony A7 IV becomes the latest camera launched in 2021 to offer live streaming – 10 Gbps live streaming through its USB-C port to be exact.
The much older A7 III model does not offer this relatively new feature.
Price
One of the most controversial aspects of the new Sony A7 IV is its introductory price.
£ 2,599 / € 2,799 / $ 2,499 in UK, Europe and US respectively, that's much more than the current retail price of the A7 III, which can be bought for around £ 1,699 / $ 1,799.
While the A7 III has been on the market for a few years now and its price has naturally come down, we still think Sony is a bit too ambitious with the A7 IV.
Conclusion
Creating the successor to one of the most popular full-frame cameras of recent years was always going to be a difficult task, especially in an era of rising prices and component shortages.
A lot has changed in the four years since the release of the A7 III, and it's clear that the new Mark IV is a much better mirrorless camera than its predecessor, at least on paper.
But it is also significantly more expensive than its big brother, and also than its main rivals such as the Canon EOS R6, the Nikon Z6 II and the Panasonic S1R.
So what do you think – has Sony struck the right balance between stills and video? Is the A7 IV a worthy successor? Leave a comment below!
Your comments