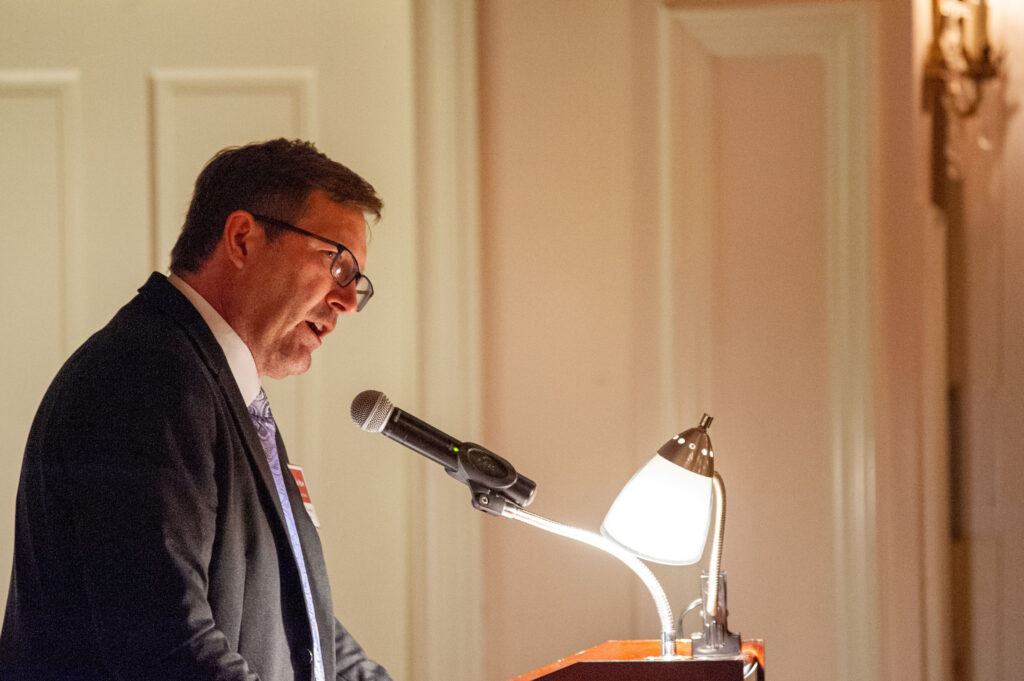 WNA Foundation Honors 2021 Wisconsin Newspaper Hall of Fame Inductees
[ad_1]
MADISON – The WNA Foundation honored the 2021 Wisconsin Newspaper Hall of Fame inductees on Thursday at a banquet and fundraiser in downtown Madison.
This year's class included Harland and Helen Everson, longtime editors of The Edgerton Journalist; William "Bill" Hale, former owner of Grant County Herald Independent and other newspapers; Phil Haslanger, longtime editor and director of Times of the capital; Margaret "Meg" Jones, former reporter for Milwaukee Journal Sentinel; J. Anthony Josey, founder of the state's first successful newspaper, the Wisconsin Enterprise-Blade; and Lucius W. Nieman, founder of The Milwaukee Journal.
Les Eversons, Hale, Jones, Josey and Nieman were honored posthumously.
Nearly 70 colleagues attended the ceremony honoring their peers, which also paid tribute to the late Bob Wills, longtime open government champion and member of the Wisconsin Newspaper Hall of Fame.
Eversons honored for his dedication to journalism, to the community
Dave Zweifel, Editor Emeritus of The times of traffic jams, and James Steinbach, director emeritus of Wisconsin Public Television, commented on Harland and Helen Everson.
Zweifel recalled his first meeting with Harland at the Everson family farm in Edgerton. He said he was sent at the time to cover the newspaper owner of a small town who had decided to run for a seat in the Wisconsin state assembly.
"He sent a message about the importance of community journalism," Zweifel said.
Steinbach shared memories of Helen and her tireless efforts to support not only the newspaper, but also her family and the community.
"Helen made a difference," Steinbach said. "She loved Edgerton and made sure the town came to life in the newspaper."
Daughters Carol and Diane Everson accepted the award on behalf of their parents.
Diane, who succeeded her parents as editor of The journalist, shared a story about his time on the board of the National Newspaper Association, which opened his eyes to his parents' dedication to the newspaper industry.
"I have been fortunate enough to travel everywhere and have seen successful businesses and less successful businesses," said Diane. "When I got home, I realized that two of the best journalists were my own parents. "
Hale recognized for helping his peer mentors
Hale was known to always take the time to develop and celebrate others in the industry. During his tenure as editor at Lancaster, he helped guide several future leaders of the Wisconsin newspaper industry.
John Ingebritsen, editor of Morris Newspaper Corporation of Wisconsin and successor to Hale in Lancaster, accepted the award on behalf of Hale and her family, who were unable to attend.
"[Bill] is also one of my Hall of Fame members, "he said. "I wouldn't be here right now, having spent the last 36 years in the newspaper industry, without him. He deserved to be recognized for his life and time as a newspaper editor, and I am very grateful for this opportunity to speak on his behalf.
"Bill was my boss for 17 years, but more than that he was a friend, father figure, mentor and patient teacher. In many ways, he looked more like a beloved parent than a boss. He had this unwavering belief that the sky is the limit for me. And if you haven't had the experience of having a boss who felt so much in you, I'm sorry to say you missed something.
Haslanger celebrated as a tireless advocate for underrepresented communities
During his career at Times of the capital, Haslanger was a tireless advocate for social and racial justice. He frequently used the power of his role as a newsroom leader to fight for the community in which he lived.
Haslanger's presentation was Kathleen Bartzen Culver, director of the Center for Journalism Ethics at UW-Madison and the person responsible for submitting Haslanger's nomination.
In addition to his time as editor and director of the Cape Times, Haslanger sits on the board of directors of the Center for Journalism Ethics.
Culver described him as kind, deeply caring, and someone who builds bridges.
She spoke of the many times he has helped other people, especially when it comes to racial and social advocacy.
"There is not a time in our years of working together that I can remember that it did not lead me or one of our student fellows or even a journalist to better journalism and more inclusive, "Culver said.
Accepting the honor, Haslanger reflected on his career and thanked those who helped him along the way, including Zweifel and Paul Fanlund, current editor and publisher of The times of traffic jams.
"When I told a friend that I was going to be inducted into the Hall of Fame, he asked me if that meant my rookie card would increase in value," Haslanger joked, displaying a press badge from his. years of university at The Daily Cardinal. "Fifty years ago, I never imagined I would be here tonight joining some of Wisconsin's stellar reporters."
Jones is known for his sincerity, his storytelling
Jones, a Wisconsin classic in every way, is remembered as the "heart and soul" of the newsroom during his time at the Milwaukee Journal Sentry. She was appointed by George Stanley, editor of the Sentinel Journal, who commented on his behalf.
Stanley accepted the award on behalf of Carole Jones, Meg's mother, who was unable to attend.
"These images [in Jones' induction video], in each of them, there is this big smile. It's Meg Jones in a nutshell, "Stanley said. "The joy she brought to life and to her work was evident every day in that smile."
Important leaders from the past honored by the WNA Foundation
The last two inductees of the evening, Josey and Nieman, were honored as part of an effort by the WNA Foundation to recognize early leaders of the Wisconsin newspaper industry.
A pioneer of Wisconsin's black press, Josey was a strong advocate for equal rights. He co-founded the state's first successful black newspaper and used its editorial platform to challenge racial stereotypes.
Nieman, who made his newspaper debut at the age of 12, founded The Milwaukee Journal and laid the foundation for what has become the state's largest and most important newspaper, the Milwaukee Journal Sentinel. His legacy lives on through the Nieman Foundation for Journalism at Harvard University.
[ad_2]